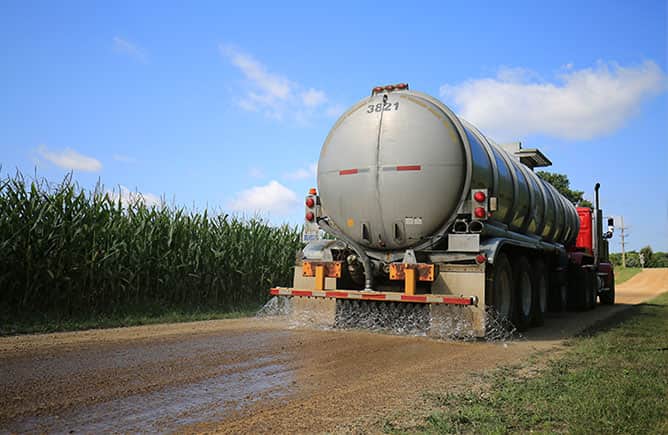 25 Apr

How Does Calcium Chloride Work to Control Dust?

Calcium chloride is an ideal product for dust control.  We typically use a 38% calcium chloride concentration for most conditions (a 42% is also available).  Calcium Chloride works great for dust control as it's naturally hydroscopic which means that it is able suck and retain moisture from its surroundings. This allows the product to keep roads damp and control dust even in the middle of summer during hot and dry conditions.  As a bonus, using calcium chloride for dust control has a couple of other benefits as well. First, it will help to bind aggregate particles together to make the surface harder and with better stabilization. Finally, with an annual application you will also see a large improvement in your frost damage. Calcium chloride will penetrate the road base by several inches where it will help to reduce the freeze and thaw effect, which is a huge component to road deterioration.

If you live on a gravel road you don't have to be trapped inside, unable to open up your windows or not able to enjoy your outdoor areas due to dust.  We work with private companies, municipalities and private residents all summer to control dust and we would love the opportunity to work with you.  If you are a resident, contact your county highway department to see if they already have a dust control program in place.  If not, recommend starting one.  If the county isn't interested or simply has no budget for dust control then we can work with you directly to be sprayed in front of your home.

If you have any questions or would like a quote, please give us a call or contact us through our website at www.glchloride.com.