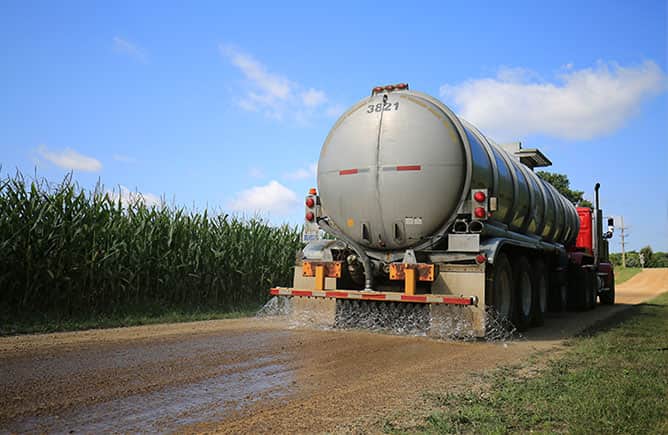 16 May

Dust Control & Calcium Chloride: How Does It Work & How Long Does It Last

Calcium Chloride is an effective, long-lasting dust suppressant. To understand why and how, it is important to look at the chemical make-up of the Calcium Chloride solution.
How Calcium Chloride Works to Control Dust
Calcium Chloride is hygroscopic – it attracts moisture from the air and its surroundings. This is how it keeps the surface of a road damp and keeps the dust down. Calcium Chloride also resists evaporation which allows one application to last a long time.
How Long Calcium Chloride Lasts
Most customers find that one application of Calcium Chloride for dust control will last them through the year. There are a few things to consider though.
If the application area if considered "high traffic," it may take two or more applications a year. High traffic areas have more vehicles crushing the road base, thus causing more dust.
Weather is also something to consider on the longevity of a Calcium Chloride application. If the summer is very dry with very little rain, you may start to see the effects of the Calcium Chloride diminishing over time. The occasional rain is great for an application of Calcium Chloride and can help reactivate the solution.
Properly prepping the road can also help the Calcium Chloride application last through the season. Having your road graded can also help bring your Calcium Chloride application back to life and keep the dust down longer.
Where Calcium Chloride for Dust Control Is Applied
We apply Calcium Chloride for dust control throughout Indiana and Michigan and parts of Ohio. Contact a Great Lakes Chloride team member for more information!