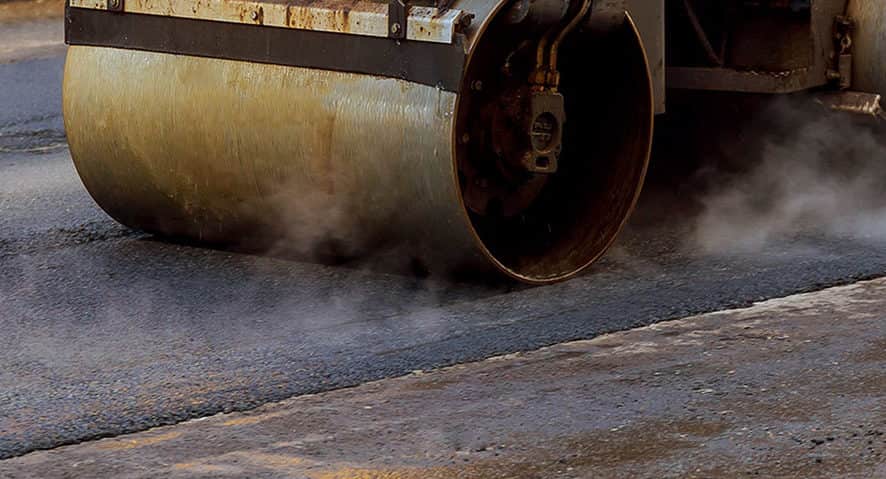 27 Aug

Full Depth Reclamation with Calcium Chloride – a Better, Cheaper Way of Re-building Roads

Many of our customers turn to Full Depth Reclamation with Calcium Chloride as a better, cheaper and more effective means to rebuilding roads. If you have never done an FDR project, starting can sometimes seem overwhelming. Below is a basic breakdown of what Full Depth Reclamation is and what benefits using this process can have.
What is Full Depth Reclamation?
Full Depth Reclamation (FDR) is a process that pulverizes the existing surface and the underlying base of a deteriorating asphalt road. During this process, the resulting materials together create an upgraded, more stable and homogenous base. This comes at a cost savings as high as 50% compared to other reconstruction techniques. To add longevity to the project, Calcium Chloride is added to the base during the grinding process. This increases stability and density, which yields a longer lasting base and roadway.
What are the Benefits of Full Depth Reclamation with Calcium Chloride?
There are many benefits to using full depth reclamation over other techniques. A few include:
The process is performed entirely at the job site. The typical costs of removing, loading, hauling, crushing and sizing of the old pavement are eliminated. The need for disposal is also eliminated.
Fewer workers and less equipment are required, resulting in lower costs. Because there is less clutter and fewer people, traffic is also able to flow better.
Faulty roadway cross sections can be adjusted. Grades can be lowered to restore curbs that have been lost due to numerous overlays. Sections that drain poorly can also be improved.
Natural resources are conserved since all the existing aggregate and asphalt concrete are reused.
Reflective cracking is non-existent.
The structural integrity of the base is increased. Using calcium chloride results in a more dense, compact base which increases the life of the road and improves riding quality.
Total pavement thickness can be reduced, which decreases material costs.
These benefits result in a huge cost savings due to decreased materials and labor. These benefits are also further amplified through the use of Calcium Chloride. Calcium Chloride provides greater density, more surface uniformity, moisture control and even frost protection.
For additional information on the Full Depth Reclamation process and how Calcium Chloride can be used, contact a Great Lakes Chloride team member!